WordPress keeps updating itself for making it more user friendly and awesome by adding new features. Gutenberg Editor is also a part of that change.
Gutenberg editor is available in WordPress 5.0 and later, which was introduced the first time in December 2018. Before the Gutenberg editor, for creating content on WordPress like posts, pages, etc Classic Editor was used by default.
Many WordPress users still want to use the classic editor and are not comfortable in using the new Gutenberg editor immediately. You might be thinking if the Gutenberg editor can be disabled and the classic TinyMCE editor will continue to be used.
Yes, it is possible to disable the Gutenberg editor. So we will describe some factors you should give thought to for disabling the Gutenberg editor. After that, we will take you through the process to disable the Gutenberg editor in WordPress 5.0 or later. And this process will help you to continue using Classic Editor.
Factors You Should Consider To Disable The Gutenberg Editor
Gutenberg editor provides lots of features with block-based editing. Even if you are not a technical person you can use these features with ease.
With all these features there is no scope of refusing the Gutenberg editor. But let's see some of the drawbacks which make you want to disable the Gutenberg editor.
Factors To Disable The Gutenberg Editor
After being comfortable with the current WordPress editor and working on it for so long it's very obvious that one would refuse to learn a new editor Gutenberg. As per human tendency, we would rather spend time on creating new content with the same old editor.
If you or your agency is working for clients like building and managing their websites. Then it's not a good practice to suddenly change the interface with which they are not familiar. This might upset them.
Although you are not the culprit in such a scenario, this sudden change will definitely create trouble for your client. They need to switch to a new interface and spend time getting used to it. This will certainly hamper their workflow and ultimately you will be responsible for that. So to avoid such situations it's always a good choice to disable the Gutenberg editor and keep things as it is.
How To Disable The Gutenberg Editor And Keep Using The TinyMCE Editor
Platforms like WordPress always strive to make things user friendly and their developers are also aware of the fact that not all users are comfortable with the Gutenberg editor immediately. For resolving this issue WordPress provided an official solution using which you can continue with classic editor despite the Gutenberg editor.
As WordPress 5.0 arrived in December 2018, WordPress suggested Classic Editor plugin which is compatible with WordPress Version 4.9 or higher and So you can set up the official Classic Editor plugin and avail its features.
Official classic editor plugin gives flexibility with the Gutenberg editor.
In the first choice, you are allowed to fully disable the Gutenberg editor. That means all functionality of the Gutenberg editor will be removed and you will get the same familiar interface just like the old days before WordPress 5.0.
In the alternative mode, you are allowed to use classic editor as well as the Gutenberg editor. This mode has Gutenberg editor by default and interface includes a link using which you can easily switch to the classic editor.
Let's see how you can set up and use the Classic Editor Plugin.
Step 1 – Start with Installation and Activate The Classic Editor Plugin
First, you need to install the Classic Editor plugin and activate it like other plugins.

Step 2 – Set the Classic Editor Mode
After finishing the installation and activation part you can set up either TinyMCE editor only or both the TinyMCE editor and the Gutenberg editor.
For this, In your WordPress dashboard click on Settings then Writing. You will find an option Classic editor settings with two options
Replace the block editor with the Classic Editor.
Use the Block editor by default and include optional links back to the Classic Editor.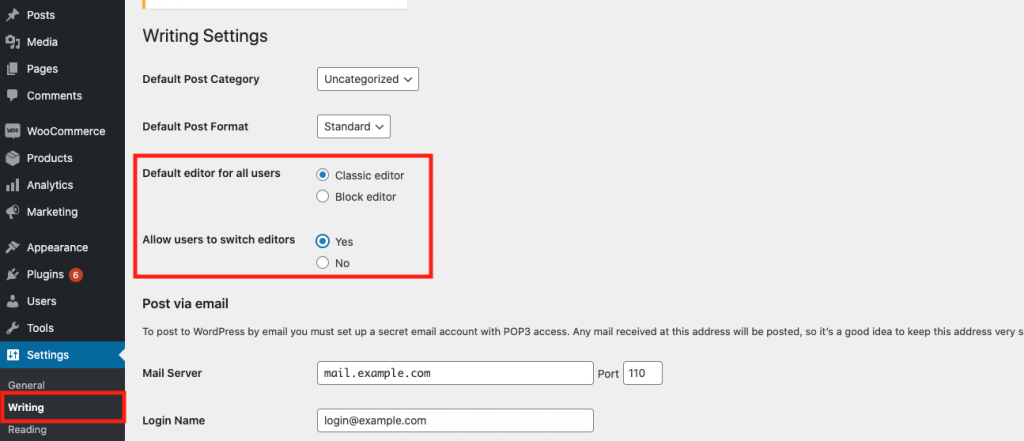 If you want to go with the first option then just click on the radio button and select that's it. This way you can use TinyMCE editor without any interruption.
But if you prefer to choose the second option that is "Use the Block editor by default and includes optional links back to the Classic Editor" then you need to scroll down.
Step 3 – How To Use Both TinyMCE Editor and Block Editor (Gutenberg)
For pages or posts created earlier, you can click on post or page option from the dashboard. Then hover over that particular post or page you will see new Classic Editor option.

Conclusion – Should I Disable The Gutenberg Editor?
See if you are not comfortable to switching to new Gutenberg block-based editor with the immediate effect then there is no harm in disabling it.  This will save you time as you do not need to learn the features of Gutenberg and keep your workflow as it is.
But the above suggestion is only for the short term because you need to take various consideration if planning to disable Gutenberg for the long term.
As you know Gutenberg editor is the default editor. So developers also keep this in mind while developing plugins and themes and create features accordingly.
Although at present the majority of the plugins and themes are compatible with TinyMCE editor as well as Gutenberg Editor. However, there is a good probability that in coming days or years developers and the majority of the WordPress users will exclusively focus on Gutenberg editor so always keep this into consideration before planning for long term.
Most importantly why miss out the awesome features.
We believe this article will help you to disable the Gutenberg editor from WordPress. And if you enjoyed this article, then please follow us for more interested and helpful tutorials. You can follow us on Facebook and Twitter.