We all are aware of this fact that SEO plays an important role in increasing website traffic. For beginners, it's not an easy task to find a WordPress SEO tutorial or article in Layman language. This article will definitely help you to understand the WordPress SEO best techniques.
You will get all the necessary tricks to directly enhance your WordPress SEO and improve the organic traffic for your website.
WordPress is always being the first choice for any pro blogger because it's SEO friendly. That is the reason WordPress is the most popular and highly recommendable platform to start a blog or a website. Although WordPress assures that the code it produces meets the latest SEO standards, that's not enough to get an edge on other competitors. Don't worry, we'll let you know the number of SEO techniques that must be followed for being on top of the others.
Table of Contents
As a beginner, improving your WordPress SEO is always a challenging task especially for non-technical guys. However, this article will break down each and everything into its simpler form. So that you will be able to understand all the fundamentals and improve your WordPress SEO.
What is SEO and Why do We Need it
SEO (Search Engine Optimization) is a method to improve the ranking of the website in search engine page results which eventually helps in driving more organic traffic to the website. SEO is the guide to optimizing your website's code, content, and formatting so that your website can be discovered by the search engines easily.
Search engines help peoples to provide more relevant results as per the search query and if your site contains similar SEO complaint content then search engine ranking algorithm pushed up your site in search results. This increases the probability that people will click on your website and hence you will get more traffic to your website.
All major search engines like Google have their own sets of algorithms to rank a website in the search engine result page. And we know for most of the websites Search engines play an important role in getting the traffic to the website.
Despite having advanced algorithms, search engines always need some guidance from our side to rank a page or website more appropriately. We help search engines by optimizing our website or content and let them know about the topics we write about.
A content without SEO always struggles to rank or appear in search page results. So if you do not want to lose traffic then making your content SEO friendly is a must.
The best part of WordPress SEO is even a non-technical person by following some basic SEO tips can enhance the SEO of the website. Being a WordPress user you can easily apply these methods for optimizing your website which will boost your website traffic.
Review the website's visibility settings
It is very important that your website should be visible to the public only when it is fully ready. WordPress has this unique feature that allows you to turn off the visibility of your website which means search engines will not show your website in the search result.
But there is a possibility that sometimes by mistake you have enabled that option. So if your website is not displaying in search results then you should check that this option is disabled/unchecked.
Just go to your WordPress dashboard then click on Settings and again click on Reading.

Next, locate the Search Engine Visibility option and make sure to uncheck Discourage search engines from indexing this site option then save through the Save Changes button.
Optimizing URL Structure to make it SEO Compliant in WordPress
Suppose you have written a post 'Best WordPress Cache Plugin to Boost Website Performance (2020)' so an SEO friendly URL will look like this.
https://wprepairgigs.com/best-wordpress-cache-plugin-to-boost-website-performance-2020/
As you can see this URL explains the content of the page itself. Just by looking at the URL, any visitor can say this content is about the best wordpress cache plugin, also search engines can read this very easily.
On the other side, if the same URL is not optimized then it will appear like this:
https://wprepairgigs.com/?p=0546
There are some irrelevant numbers and letters which are not even related to the post. So this is a non SEO friendly URL that means visitors won't be able to guess what they are going to read in the post.
For enhancing your rank in search engine results you should focus on SEO friendly permalink structure. Following these simple steps you can modify your website's permalink structure and make it SEO compliant.
Go to Settings then click on Permalinks and modify the Post Name (if required) after that save your changes.

WWW vs non-WWW
You might have seen some websites with URLs like http://www.xyz.com (www URL) and some URLs like http://xyz.com (non-www URL).
Obviously search engines can differentiate between the two. But do not get confused in deciding which URL you should use because from SEO point of view there is no impact of www in your URL.
The only thing you should keep in mind as a beginner you must choose one URL whether it's www or non-www and make it permanent.
Now for choosing your preferred URL go to Settings then click on General and you will option 'WordPress Address' and 'Site Address' fields. Click in the box and set your URL and save your changes.

As mentioned earlier for WordPress SEO you do not need to worry about complex codes. Being a non technical person you just need to follow some best approaches for better results.
Let's see how you can get an added advantage over others too without getting into the codings.
Always Use Internal Linking

Search engines have an algorithm of giving page authority scores to the pages of your website. Though they have not revealed the benchmark for deciding the page score to avoid any kind of manipulation by the users. But one of the important factors for page authority are links.
So it's highly recommendable to always link your blog posts with your own previous posts, articles or pages in a meaningful way. And make yourself habitual to this.
When a user visits your website while reading your post, the probability is very high that he/she will click on the interlinked post and also read them. Ultimately this increases the duration of the visitor on your website.
Hence, interlinking improves the engagement and page views of your website which enhance your SEO and page authority score of each blog post and pages.
Use the Categories and Tags Correctly in WordPress
In WordPress, you can organize your blog posts by categories and tags. So you can navigate your content by topics and also helpful for users to search their desired content. Search engines also utilize categories and tags to identify the layout and content of your website.
Categories are used for a wide classification of your blog post or articles. Your blog may contain different categories such as sports, news, food, movies, etc.
Since categories are very broad it can be further divided into child categories. Have a look at some of the best practices for categories and tags.
Whereas tags are a quite precise one or two-word keywords which are normally used to address a particular blog post. Suppose you have written a blog post under the Sports category, then it may have tags like Messi, Ronaldo which describes your post is about a specific sport and personality.
This way proper implementation of categories and tags improves the visitors experience by providing easy access to their preferred topics. And in this process search engines are also able to do hassle free navigation of your website.
NoFollow External Links in WordPress
As we described above interlinking is an important parameter for page score. Similarly, there is an external linking which means if you link to some other website it is referred to as external linking for that website. When other websites link to you then it is counted as an external link for your website.
However during this process when you create a hyperlink to a website, a small amount of your own website's SEO score also gets transferred to that external link, this SEO score is known as "link juice".
If you are receiving enough link juice from other websites then it is beneficial for your search rankings. But getting link juice should be more than giving link juice to other websites.
For saving your link juice you can add a "nofollow" attribute in external links by editing the HTML code which is explained below. If you link to your own another website then do not use nofollow attribute because it directs search engines not to follow those external links.
You can easily identify a link with no follow attributes in HTML:
<a href="http://xyz.com">XYZ Website</a> <!-- (without no follow attribute) -->
<a href="http://xyz.com" rel="nofollow">XYZ Website</a> <!-- (with no follow attribute) -->
In WordPress you are allowed to customize the links manually. Just click on the block which you want to modify then on right top of that block you will see three dots click on that and choose Edit as HTML.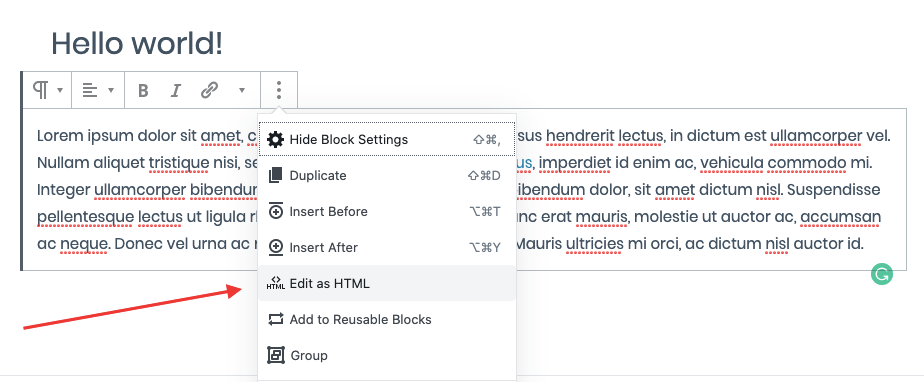 Now you are on edit as HTML page simply add rel="nofollow" attribute to the external link part.

Optimizing Comments in WordPress
Many people think how comments can affect the website's SEO. Normally, people comment on your post after reading it. If you are getting genuine comments that means your post is engaging the visitors and they bring links back to your site along with traffic and hence enhanced SEO.
But you need to be aware of spammers as they used to intentionally comment malicious links on your post. This has a very bad impact on your ranking in the search engine result page.
To avoid such spammers you can use a pre-installed WordPress plugin Akismet. It will take action to reduce or prevent such spam comments.
Also, if your post is getting lots of real and genuine comments then you must have created an awesome blog post. But too many comments may have an adverse effect on search ranking by delaying the load time of that post. To tackle this you can do the pagination of comments which means breaking the comments into different pages.
Full Posts vs Summaries (excerpts)
In WordPress, the archive page shows posts from various pages such as blog page, home page, tags and category archive, etc. But the default setting of WordPress displays the complete post/article on different pages which may be considered as duplicate content by the search engines. Full articles also make your archive pages load slower.
Suppose a visitor comes to your website and is able to read your post on the home page itself.then why would he visit the post/blog page? This will reduce your page views and also this will increase the loading time of your archive pages.
Putting yourself in the visitors shoes, if you landed on a website and straight away you are asked to read a 2000-3000 words post you will certainly dislike it.
So it's always good to show summaries or excerpts and let them decide which post or article they want to read by clicking on read more.
To enable this go to Settings then click on Reading and choose Summary.
Your WordPress Website's Safety and Security
A website with compromised security has no credibility which happens due to different cyber attacks. As per data about 20,000 and 50,000 websites get blacklisted every week due to malware and phishing respectively by Google.
You must be aware of the fact that blacklisted websites won't appear in the search engine results which is clearly a hard hit on all of your efforts for SEO.
For securing your WordPress website you can install a security plugin and protect your hard earned SEO ranking as well as website.
Go for SSL/HTTPS
Secure Sockets Layer is an advanced security layer which provides added security to your WordPress website. While visiting websites you might have noticed a padlock sign just before the link in the address bar of your browser, this shows that the website is secured with SSL and trustworthy.
SSL authenticates all the connections between the server and the user's browser. Especially for online stores that handle payment-related critical information SSL is a must. Many popular WordPress hosting platforms give free SSL certificates.
Enhancing the Speed and Performance of Your Website
In this fast moving internet age no one likes to wait and you might do the same when visiting a website which is taking more time to load. You leave that site instantly and look for other options. Now this increases the bounce rate and again causes an adverse effect on your search rankings.
So always make sure that your website is lighting fast and visitors can navigate through pages within a fraction of seconds. Major search engines always keep an eye on your website loading time and consider this as one of the parameters for ranking.
SEO Optimization of Images in WordPress
We all know images attract more visitors because visual representation gives an idea about the content without reading the texts, also a catchy image draws the attention of users and forces them to read the post.
But at the same time you should not forget to optimize your Images in terms of sizes and quality. So that they will load faster.
Also make your images readable for search engines, you must be wondering how search engines can read the images. It's very simple just use proper alt tags and a descriptive tags title. For example if your image is about the best SEO plugin then give an alt tag best SEO plugin. This way search engines know that this image is relevant to this topic.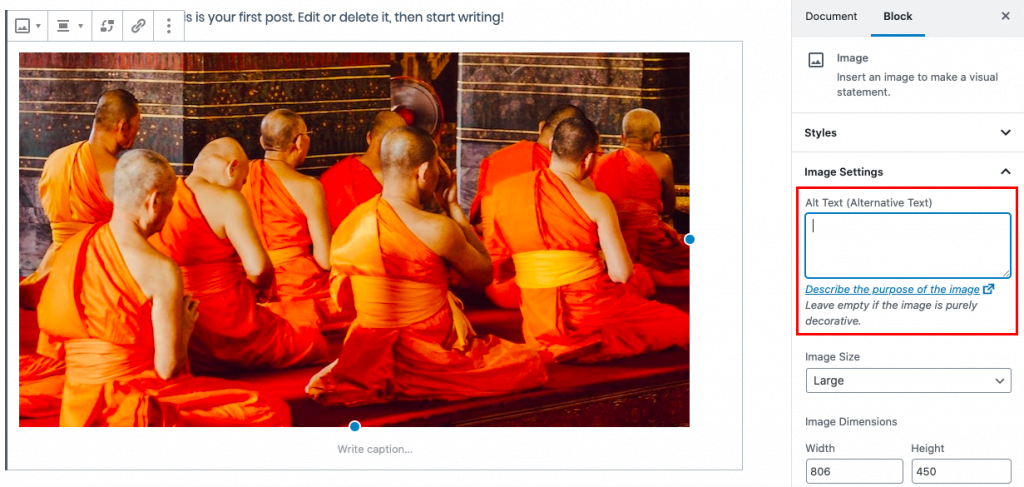 Using WordPress, it's a very simple process just select the image and navigate the Image Settings at Block Settings.
Selecting the right WordPress SEO Plugin
However there are many WordPress SEO plugins available there which might confuse you as a beginner. But do not worry we are going to suggest you the best WordPress SEO plugin that is too available for totally free.
Talking about the most popular and best WordPress SEO plugin clearly Yoast SEO is the first choice for the majority of the users. Whether you are a beginner or pro you will certainly like the wide range of features it provides.
If you want to try another one you can go with All in One SEO Pack, this is also a choice.
Submitting your Website to Google Search Console
Google Search Console is earlier known as Google Webmaster Tool which is an official tool by Google which enables you to see how your content is analyzed by the search engine.
It lets you know how your website/content/pages appear in the search engine result and which keywords visitors are using to reach your website, click rate, and other useful information.
When Google Search Console finds any error or unusual things such as its crawlers can't crawl through your website, duplicate content it informs you so that you can make necessary changes.
In nutshell Google search console acts as a friend of your website which tells you how to improve your website and where you need to work.
Submitting XML Sitemap in WordPress
Search engines can not read or understand the contents of the website as we do. It requires a unique formatted file which is known as XML Sitemap which consists of all the information about each page of the website.
Although submitting XML sitemap has no direct impact in enhancing your website SEO, it allows search engines to understand your website and display the pages faster and initiates ranking the same.
For Yoast SEO users it's very simple to visit URL https://example.com/sitemap_index.xml (instead of example you have to use your own domain name)
Making Your Blog Post SEO Friendly
Installing the best WordPress SEO plugin is just an initial step in order to enhance the SEO. But proper implementation and use of such plugins is always important to get the maximum benefits.
Using the SEO plugin you can check your post how it will be presented for users after posting it, you can add titles, targeted keywords, meta description etc.
While writing your blog post in WordPress you will see a Yoast SEO meta box below the post editor. You can work on suggestions given by Yoast like optimizing the title, adding description, focus keyword and many more. This way you can do the proper on-page SEO of your post.
Conducting Keyword Research
Experienced experts always do the keyword research before writing a single post that is one of the main differences between a novice and expert. Being a novice you should never go on prediction, or guessing, else your efforts will go in vain.
In this cutting edge era where you have everything at your fingertips and so is the real data of search volume.
Keywords simply mean what people are using to search content, service, products etc. You need to properly use those keywords in your website in the form of pages, posts and attract traffic.
With the help of various free and paid keyword research tools you can allocate the right keywords for your post as well as your competitors keywords for which they are ranking.
We believe this article will help you to achieve your goal with WordPress SEO guide. If you like this article, then please follow us for more interested and helpful tutorials. You can follow us on Facebook and Twitter.